Internet used to be text - now it's VIDEO
Grow your business with personalised video funnels that engage your audience with human interaction, capture leads, guide your users, enhance customer satisfaction and increase conversion rate.
Book a tour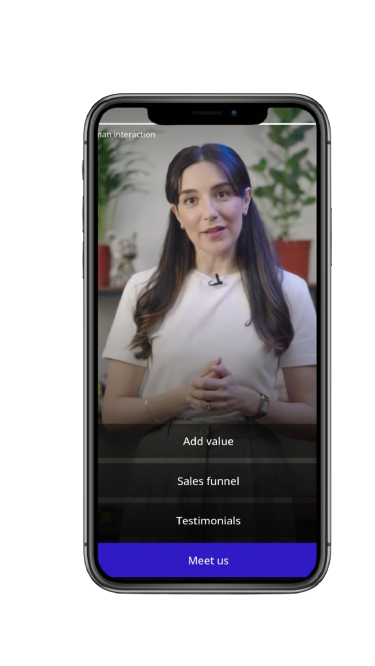 Just wanted to let you know Videobot absolutely helped us crush Black Friday! Our whole team loves it!
Mike Carlson, Ancore
We run a creative video agency. With Videobot, we were finally able to showcase our previous work for the visitors of our website in a great format.
Heikki Oinonen, Koju
We're getting lots of good feedback from the users. I'm now receiving more high-quality leads as well.
Lucien Douwes, Immopartner
Elevate Your Customer Communication with Interactive Video
Elevate Your Customer Communication with Interactive Video

Showcase Your Products
By combining engaging visuals with interactive elements, you can provide a dynamic and captivating experience for your audience.

Improve Your User Experience
Interactive navigation allows your customers to easily find the content they're looking for, leading to increased engagement and satisfaction.

Streamline Your Lead Generation
Customers can reach out directly with any questions or concerns, fostering a stronger connection with your brand.
Book a tour
Making your website interactive has never been this easy
Videobot is a revolutionary tool for creating leads and improving interaction on your website. It eases purchasing and finding information while making navigation a breeze.
At the same time, Videobot makes collecting visitors' contact information more straightforward than ever, so you don't need to worry about missing any potential leads.
Book a tour
Meet Videobots around the internet
See how Videobot has improved navigation and lead generation on the websites of these innovative companies.
Circuli-Ion
With Videobot we are able to explain our method for recycling batteries in a quick and easy-to-understand format.
Nordic Design Shop
Showcasing our different types of products for our customers has never been this easy and effective!
Receipt Hero
Not all pitches need to be boring! Videobot enables us to have fun while showcasing Receipt Hero.
With Videobot, you get results
Latest guides and articles